Manchego Con Tomates Y Romero
Debbwl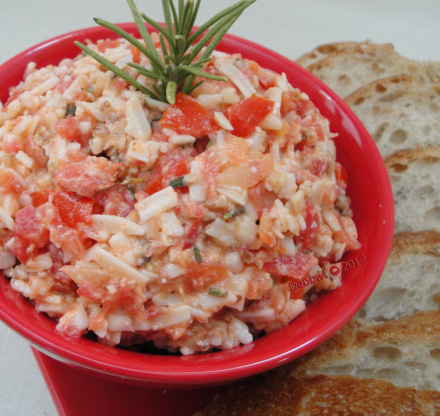 ¡Gracias otra vez, Josè Andres! If you really don't like rosemary, please feel free to substitute fresh parsley (Italianf/flat leaf variety).

Top Review by Debbwl
While this was tasty the night it was made it was even better the next day. I grated everything in the food processer which gave it a nice texture to go with the wonderful flavors. Used heirloom tomatoes and fresh baked French bread and highly recommend you use the best ingredients you can get put your feet up and just savor the flavors. Thanks for the post.
Note: you can puree the tomatoes by hand using a cheese grater or use a mini food-processor. If doing by hand, discard the tomato skins. For convenience, I used a food processor.
Toast the walnuts for 5 minutes in a 350 degree oven. Set aside to cool.
Place all the ingredients in a non-reactive bowl and stir to combine.
Serve immediately.
This is wonderful on crusty artisan bread!