Manakeesh Bil Za'atar (Flat Bread With Za'atar)
Pneuma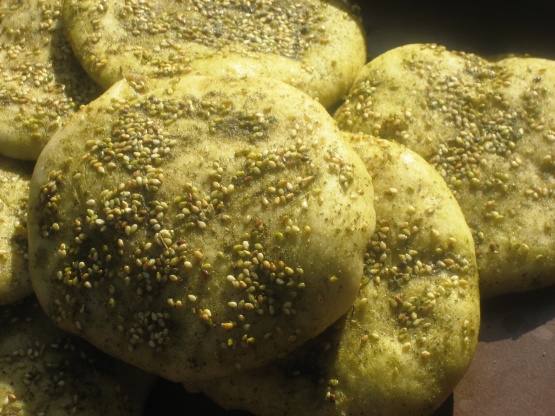 This is a lovely Lebanese bread topped with zaatar spice mix, eaten any time of the day.. or night!

Top Review by Pneuma
Ohhhlalala, so delicious! Taste is perfect! Exactly what I would buy from the old city with the delicious zaatar topping. Since I already had zaatar, all I had to do was make the dough which I find myself adding a little bit more flour to be able to work with the mixture. I should have made more since it didn't last so I'll be making this again today doubling the mixture this time! Thank you for sharing Aaliyah's mum :)
To make the dough, sift the flour, sugar, yeast and salt in a large bowl.
Make a well in the centre and add in the water and knead till the dough has come together leaving the sides of the bowl clean.
Transfer onto a clean work surface and knead for about 10 minutes till the dough is smooth and elastic.
Lightly grease the bowl and transfer the dough into the bowl and cover with cling film and leave it in a warm place till it has doubled in bulk, for about 1 1/2 hours.
Meanwhile, pre-heat the oven to gas mark 7/425F/220°C.
Put 2 large oiled baking sheets in the oven to heat.
Knock the air out of the dough and knead again for about 2 minutes.
Divide into 8 portions and roll each ball between your palms until smooth and round.
Flour the work surface and flatten each round with a rolling pin until it is circular, even, and about 1/4 inch thick.
Cover and leave in a warm place to rise for 20 more minutes.
Brush the tops of the discs with a little olive oil.
In a small bowl, mix all the ingredients for the zaatar spice mix and add in the remaining oil and give it a good mix.
Spread the oil-zaatar mixture over the surface of each bread.
Slide the bread onto the hot baking sheets and bake for 10 minutes or until the bread is golden brown.
Remove from the oven and serve hot.