Mana'eesh (J)gibneh - Cheese Pastries
loof751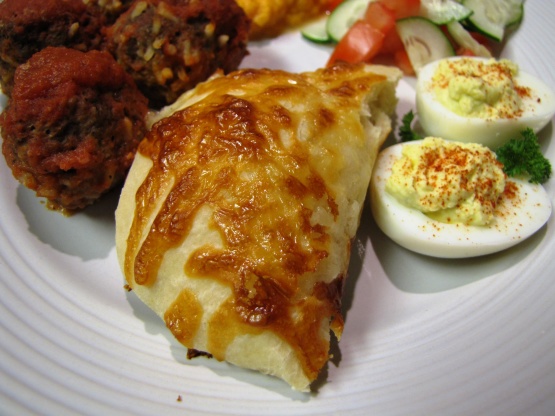 This is one of my favorite foods. Mostly because I love the dough. Traditionally it's made with Akkawi cheese but you can mix with Mozzerlla or sub If you like a lil something extra try jazzing them up with za'taar spice or some veggies. These freeze well pre baked. I have brushed them around the edges with olive oil or butter for a golden glow but not always. Play around with them to cook them to how you like. Some like a softer dough and less time in the oven and some like a crunchy dough. This dough can do either.

These are just FABULOUS. The dough is soft, silky, fragrant and easy to work with, despite the slight stickiness. The weather was very humid, and I had to increase the quantity of flour some, but I still kept the dough soft and tacky. The flavor of the dough is great. I think that it's important to use a fruity evoo, it's discernable in the finished pastry. I used the suggested mozzarella and za'taar toppings, but I'm thinking that this dough is just too good to stop at them. I had a lot of fun making these, both for my customers and my family. It's an easy treat, also a welcome side to a summer salad. This is already one of my favorite little extras, thank you so much Jamilah!
Dissolve the sugar in the ¼ cup water. Sprinkle the yeast over the water and let ferment and bubble.
In a large bowl combine the yeast, flour, salt, olive oil, egg, and warm milk. Knead until a soft dough is formed. Dough will be slightly sticky, so always make sure your hands have a little olive oil on them.
Lightly grease the same bowl with olive oil. Return the dough to the bowl, cover with a clean cloth and leave in a warm dry place for at least 2 hours, until doubled.
Preheat oven to 350°F.
Take fist-fulls of the dough and on a floured surface roll out into small balls. Let rest for 5 minutes. Flatten each dough ball into 4" disc, about ½" thick.
Place on a lightly oiled baking sheet and top with cheese. Repeat with remaining dough and cheese.
Bake until golden brown, about 18-20 minutes. Serve warm.