Mamma Maculan's Winter Fruitcake
katew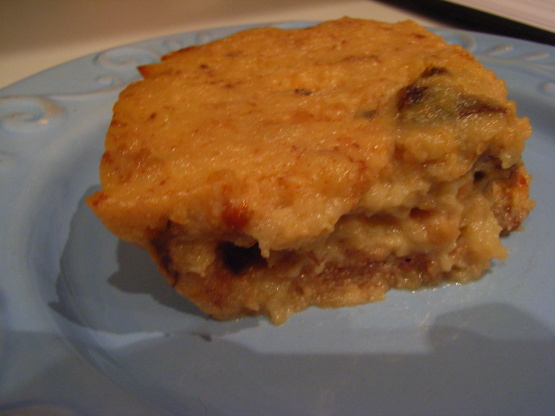 Recipe taken from "La Cucina Italiana" magazine and posted for ZWT II 2006 Italy. This is a great make ahead cake, and tastes better the next day. ***NOTE*** Torcolato is a sweet dessert wine, and can probably be substituted by any wine fitting that description with a high acidity, as Torcolato is difficult to find and rather expensive.

Top Review by katew
I thought this was delicious. It is a bit like a firm bread and butter pudding that you can cut it into wobbly slabs. It is very east to do and you could use any type of cooked or even tinned fruit and any type of chopped dried fruit. I made mine with just apples as I had no pears and threw in some dried apricots as well. It did need extra cooking time but that is due to my oven, I think.
Preheat oven to 400 degrees. Butter a 9" cake pan and coat the bottom and sides with a thin layer of bread crumbs. Place the pears, apples, butter, and sugar in a 1-quart pot; cook over medium heat, covered, until the fruit breaks down into a puree, about 20 minutes, stirring often and removing the lid if the mixture becomes too liquid; cool to room temperature.
Meanwhile, soak the raisins in the Torcolato. Heat the milk in a saucepan with the vanilla extract, and cinnamon; put the breadcrumbs in a bowl and pour the hot milk over them; set aside for 30 minutes to let the bread crumbs absorb the milk. In a large bowl, beat the eggs with the fruit puree, lemon zest and salt using a wire whisk. Using a wooden spoon, fold in the bread crumbs and raisins, including the Torcolato used to soak the raisins. Pour the mixture into the prepared cake pan and smooth the top with a rubber spatula.
Bake for 40 minutes, or until a toothpick inserted in the center of the cake comes out clean; cool on a rack and unmold. Dust the cake with the sifted confectioner's sugar and garnish with the grapes. Serve with glasses of the same dessert wine used in the cake.