Mamma Caye's Gazpacho De Blanco (White Cold Soup)
COOKGIRl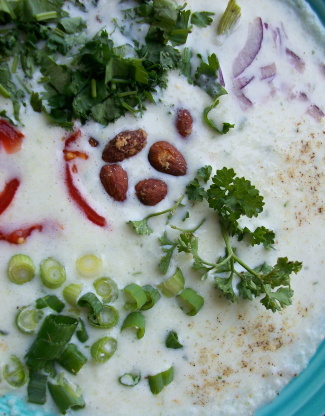 My friends at KU are obsessed with this recipe.... even our German exchange student loves this one! The toppings are the best part... Pick and choose whatever you like. Personally, I adore smoked almonds and/or tomatoes in mine.... mmmmm... Don't add the toppings until its time to serve. The cooking time is chilling time.

This soup is fantastic! I always thought I HATED Gazpacho, but this proved me wrong. I made it in the blender, and the 3rd cup of broth didn't fit. I forgot to add it later, so ate it w/o all the liquid. It was nicely thick and full of taste. I wonder if the 3rd cup of liquid would have resulted in a watery consistence? No matter what, it was SO refreshing and flavorful, this will become a standard summer meal in my house from now on!
Blend cucumbers, broth, and garlic in blender or food processor. Add vinegar, salt, and sour cream. Refrigerate 24 hours, or overnight. Serve in chilled bowls with toppings of your choice.
May be made 2 to 3 days in advance.