Mami's Mini Chicken Burritos
seesko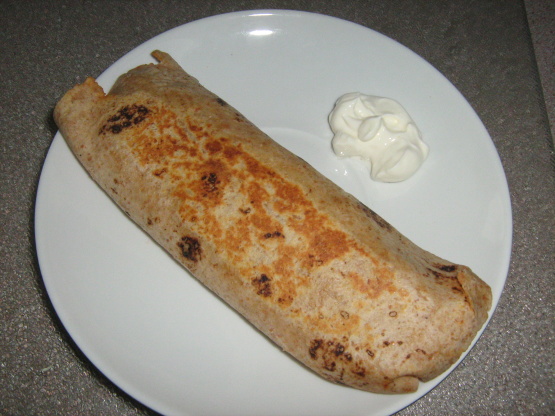 Super easy, tasty and quick burritos. I make them with regular flour tortillas so that they come out the perfect size for my kids' small hands- if I made them with those huge burrito-size tortillas, they would never eat them! Great use for leftover cooked chicken. I divide the filling in two before I add the jalapeno and then add it to only one filling for the adults. These can also be served as an appetizer.

Top Review by seesko
I really enjoyed these for lungh today. I hate changing recipes, but I did change this a little bit. I used a whole wheat tortilla. I also left out the beans because I am not a big bean person. I really enjoyed this tasty and healthy lunch. Thanks. Made for Bevy tag 2008.
1 1⁄2 cups cooked chicken breasts, shredded

1

cup cooked beans (pinto, black or whatever you like)

1

roma tomato, chopped
1⁄4 cup tomato sauce

1 -2

canned jalapeno chile, finely chopped
1⁄2 cup shredded cheese (Monterey. Manchego, Oaxaca, Cheddar)

1

cup shredded lettuce (optional)

10

regular size flour tortillas
In a large bowl, mix chicken with the beans, tomato, tomato sauce and jalapeno. Meanwhile, heat a large non-stick skillet over low heat. If you know how to heat tortillas in a griddle, then do so, otherwise warm them slightly in the microwave between paper towels. Place one tortilla in a plate. Put about 2 tbs filling in the center of the tortilla, top with a little cheese and lettuce, if desired. Fold the sides of the tortillas over the filling, then fold the side closest to you over the filling and turn burritos over, enclosing the filling. Repeat with remaining tortillas and filling. Place seam side down on the skillet so that the burritos get nice and crispy on the outside and the cheese melts. Serve hot.