Stacky5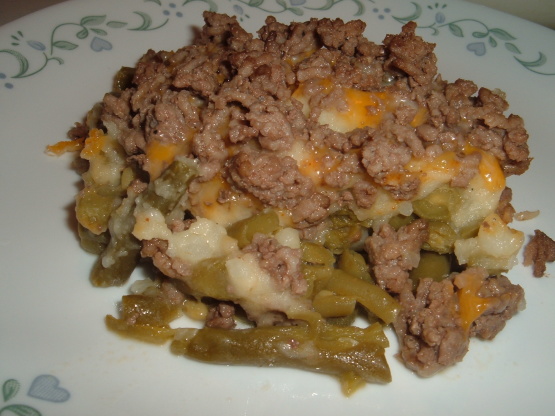 This is absolutely the weirdest recipe I've ever encountered......I got this from my 1st ex-DH, actually from his Mom...I cannot justify it by normal means, but I have to tell you that it is requested by my family on a weekly basis...My ex-MIL was a very young cook when she married and had kids, and I think this was her attempt at some sort of a "Shepherd's Pie" (although upside-down), except that her husband was an insanely picky eater, so she came up with this out of necessity....which turned out to be a favorite of that family. So here it is...It really is quite tasty! It's a "keeper" in my household now. NOTE: I have added a few touches just to add some extra flavor, but the general idea is still there! (The original recipe consisted of ONLY 3 ingredients: green beans, mashed potatoes and ground beef. Period.)

I made this for my husband for dinner tonight and he really enjoyed it. I added some garlic powder and cajun spice to the meat and, as did scimietta99, I layered the casserole differently: meat, great beans, potatoes and then cheese. DH already requested that I make this again. A keeper for sure for those busy weeknights.
Brown the ground chuck and saute onions at the same time in a skillet. Drain well.
Meanwhile, peel and roughly quarter 4-6 potatoes and boil for 20 minutes until fork tender. (I add 1 tablespoons salt to the water.) Drain, and then mash potatoes and add butter, milk, and salt & pepper to taste. Mix well.
Also, cook the 2 cans of green beans (drained VERY WELL) in 1 tablespoons butter, over medium-low heat.
In a 2 quart casserole dish, pour all green beans in the bottom and spread evenly. (Salt and pepper to taste.).
Then spread prepared mashed potatoes on top, sprinkle with paprika and add the cheese.
Then spread beef mixture on top.
Bake, covered in a 350 degree oven for about 20-25 minutes, until heated through.