Baker30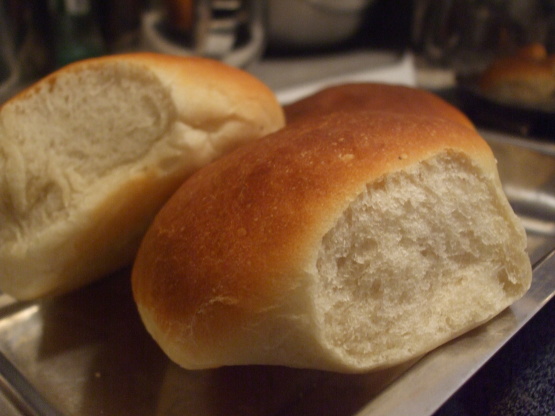 This recipe has been handed down in my family for several generations. I'm not sure which of the ancestors actually originated it, but I know my grandmother used it and made the absolute best rolls in the world. My grandfather wouldn''t eat store bought bread because it wasn't as good as "Mama's" bread.

Finally got to make these today after a long anticipation and they are wonderful- soft,sweet and delicious.I didn't have fast rising yeast on hand,so I used regular active dry yeast and I increased the amount by 1/2 a teaspoon.I let it proof in warm water for a few minutes and then proceeded with the rest of the steps.These are just perfect and it's definitely a recipe that I will treasure.I would really recommend it to anyone and thank you for posting Donna65 :)
Place water in large bowl.
add yeast.
stir in sugar, oil, salt, and 4 cups flour.
Beat well with electric mixer at med to high speed.
Stir in the last 2 cups of flour 1/4 cup at a time until the dough pulls away from the sides of the bowl and is soft and elastic.
Turn out on floured board and knead for 5 to 10 minute.
Transfer to greased bowl, cover and place in warm, draft-free area.
Allow to rise to double.
Punch down and turn out on floured board.
Knead to remove most of the air bubbles.
Pinch off approx 2 inch diameter pieces.
Place in greased pan.
When all rolls made, brush with oil or butter.
Allow to rise to double.
Bake in hot (425) oven until golden brown.
Remove from pans and cool on wire rack or serve while still warm.
May be frozen after baking.