3 Reviews
Delightful biscuits! Very easy to make. Great served with gravy or butter and honey. Thanks, linguinelisa! Made for Aussie Kiwi Recipe Swap #79.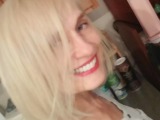 I have her cookbook and even had this recipe flagged to try but hadn't gotten around to making them, lol!!! I have never tried biscuits with mayonnaise, so wanted to see the difference. I made 1/4 of the recipe with all the ingredients listed which resulted in 3 biscuits. I too, handled the dough as little as possible and they were yummy!!! The one thing that I noticed different from other butter/crisco biscuits, was that they wasn't a saltiness and they didn't get as much of a golden color. These are quick and so easy to get to the table. Thanks for sharing the recipe. Made for 123 Tag Game.
Very nice biscuit! I made these for ham, egg and cheese biscuits. They turned out just perfect. I did make my own self rising flour, and as usual, handle the biscuit dough as little as possible. Made for Spring 2011 PAC. Thanks for posting!

Mama's Mayonnaise Biscuits by Virginia Willis