VickyJ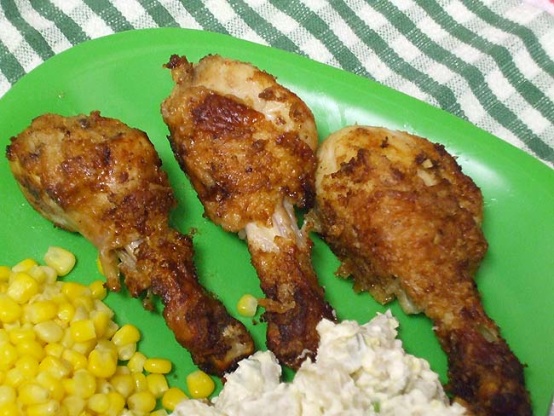 A classic fried chicken recipe from Curtis Aikens (Food Network). Prep time does not include 2 hours chilling time.

Top Review by VickyJ
Hello there. I made this for two servings and used chicken drumsticks. I thought the flour needed to be seasoned more, so I added salt, garlic and onion powders. I followed the directions, but the coating didn't seem to want to stick. I'm not sure what I did wrong. I think I might add a beaten egg when coating the chicken, next time. Thank you.
Sprinkle chicken with salt and pepper.
Place chicken in shallow dish or ziploc plastic bag; add buttermilk.
Cover or seal, and chill at least 2 hours.
Remove chicken from buttermilk, discarding buttermilk.
Dredge chicken in flour.
Pour oil to a depth of 1 1/2 inches in a deep skillet or Dutch oven; heat to 360°F.
Add chicken, a few pieces at a time; cover and cook 6 minutes.
Uncover chicken and cook 9 minutes.
Turn chicken; cover and cook 6 minutes.
Uncover and cook 5 to 9 minutes, turning the chicken the last 3 minutes for even browning, if necessary.
Drain on paper towels.
Test chicken with meat thermometer (170°F) or by piercing thickest portion with fork.
When juices run clear it is done.