sheepdoc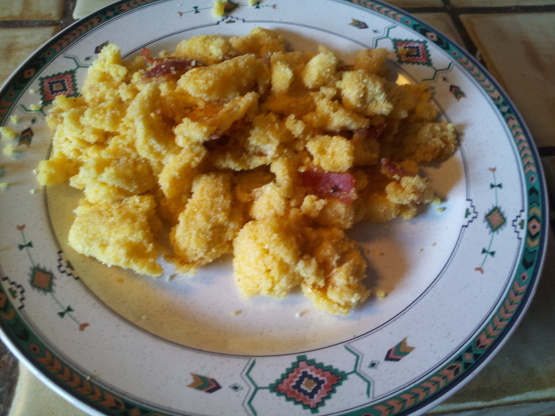 A simple Cajun breakfast delicacy, pronounced "coosh-coosh." Warm cane syrup and café au lait would be appropriate accompaniments. This is home cooking at its best. Recipe from the New Orleans Times-Picayune.

This was a very unusual breakfast for us, but nonetheless delicious. I did as some reviewers commented and actually chopped up the bacon I used for dripping into the cornbread couche couche (love the name!). The hit of sweet with savoury was yummy.
Combine the cornmeal, salt, baking powder, milk or water in a bowl and mix to blend. The mixture will be like damp sand.
Heat the drippings in a cast-iron (preferably) medium-size or large, heavy skillet over medium-high heat. Add the corn meal mixture and allow a crust to form on the bottom, much like you would do to make cornbread.
Reduce the heat to medium and cook, scraping the bottom of the pot with a metal spatula to stir and fold the crust, breaking up large lumps, until the mixture is golden brown and resembles crumbled cornbread, about 15 minutes.
Serve hot, with cane syrup, or honey drizzled over the top. Maple syrup if you must - LOL!