alligirl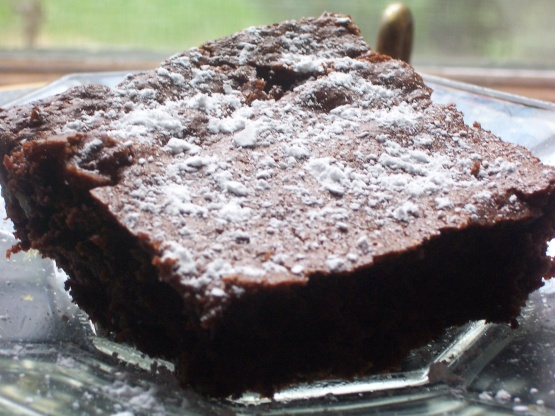 These are my families favorite Brownies. The outside edges are chewy and the inside almost fudgy. There is always a battle over the edges LOL They usually fall in the middle so don't worry about that . Bake time is approximate I like to take them out while they are still almost undercooked.

Aww, wicky, these are wonderful- chocolatey and delicious! I made these with DS and he really enjoyed helping; he couldn't wait for them to be ready - me either! I used a glass 9 X 9 baking dish and cooked for 30 minutes @ 350 degrees; I did add about 1/2 cup of walnuts, and I will need to make these again...soon and often! Thanks for sharing!
Sift the flour and baking powder into a small bowl and set aside.
Melt the margarine in a saucepan and add the cocoa.
Heat for a minute on very low heat being careful not to burn.
Remove from heat add sugar, flour and baking powder.
Blend well then add eggs .
Mix well add nuts.
Pour into a greased 8x8 pan.
Bake 350 for 20-30 minutes.