Mama's Amazing Pot Roast (Crock Pot)
NELady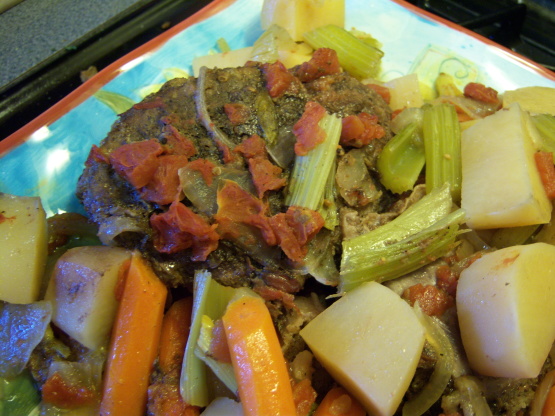 My mother's incredible pot roast with a flavor loved by everyone in the family - even our 1 1/2 year old!

This had such a different taste than your normal crock pot roast. I browned the roast on all sides with the steak seasoning and Worcestershire sauce on it. I sauteed the chopped onions and then added everything to the pot as written. (I had no celery so subbed cabbage in it's place). I used garden tomatoes that I had frozen and thawed, using all the juice in place of the broth and added about a tablespoon of beef base. My husband and I thought the vegetables, especially the potatoes had a really great taste. As someone else said the smell during the day was wonderful! Thanks for posting!
2

lbs boneless chuck roast (also called pot roast)
olive oil, to coat
Worcestershire sauce, to taste
McCormick's Montreal Brand steak seasoning, to taste
salt and pepper, to taste

4 -5

medium carrots, sliced in 2-inch segments

2

stalks celery, chopped

3

medium red potatoes, cut into eighths
1⁄2 onion, chopped
14 1⁄2 ounces diced tomatoes, drained (leave a little liquid behind)
10 1⁄2 ounces beef broth

1

tablespoon cornstarch

8

cups cooked white rice, buttered
Coat the pot roast with olive oil and a few shakes of Worcestershire. Season generously with Montreal Steak Seasoning. You can marinate overnight or use immediately.
Place half the cut vegetables (onion, celery, carrots and potatoes) on the bottom of the crock pot, and season with salt and pepper.
Place the pot roast on top of the vegetables.
Place the remaining vegetables on top of the pot roast, and season with salt and pepper.
Pour the can of tomatoes and the can of beef broth evenly over the ingredients. Season one last time with salt and pepper.
Crock on low all day (10 hours) or change time/temp to suit your needs. An hour before dinner, make a mixture of cornstarch and water (equal parts) and add to crock pot to thicken the liquid.
Serve over hot buttered rice.