Mama Mia Mocha Cupcakes With Espresso Frosting
ashkani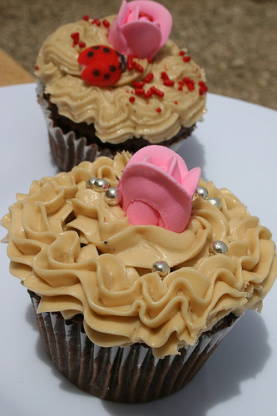 These delights reference NOT the BWay show...but a special treat for our Pasta Lunch at the base Dining Facility. I cheated with a box mix(spiked-up, but the frosting is from scratch. :)
Cupcakes:preheat oven to 350.
stir instant espresso into the espresso shot.
in mixer bowl, oil, eggs, cake mix, and buttermilk.
mix until moistened for 30 seconds or so.
add espresso.
beat on high until thickened and smooth a few minutes.
fill lined muffin pans 2/3 full.
bake 15-20 minutes until toothpick comes out clean.
remove from pans and allow to cool completely before topping.
frosting:.
add brewed espresso and ground espresso and vanilla to milk.
beat butter in mixer with 1 cup confectioner's sugar.
add coffee mixture.
add the rest of the sugar until smooth, creamy--don't forget to scrape down your bowl, and don't whip at too high a speed for too long.
decorate as desired!