Peter J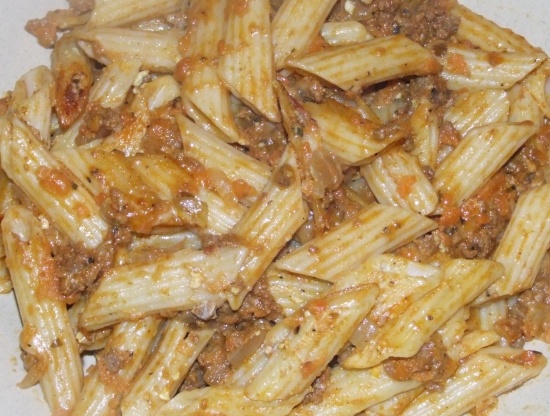 This recipe is one that almost every Maltese family eats some time in their life! My whole family loves it, and its one of the nicest ways to eat macaroni.

I made this the first time over 12 months ago - I cannot believe I didn't rate it. Anyway, I will do it now, after making it again. This is another way to enjoy your macaroni, it is really different with the carrot and eggs and cheese. Certainly a lot dryer than some recipes but seemed to "grow" in taste some where along the line. A keeper
Preheat oven to 180 degrees Celsius or 356 degrees Fahrenheit.
Boil water for pasta in a large pot (don't start cooking sauce until water is almost boiling).
Chop onions finely. In a medium pot, over medium heat, add olive oil, onions and minced meat.
Cover and stir occasionally.
Add pasta to water and boil until soft.
While pasta is cooking, finely grate carrots and add to the sauce; add tomato paste to the sauce and stir.
Add salt, pepper, and curry (more than a teaspoon may be used if desired); stir.
Cook sauce until it starts to stick too much to the bottom of the pot; remove from heat and cover (never add water).
Drain pasta and rinse well.
Add eggs and cheese to pasta and stir.
Add sauce to pasta and stir well.
Put ingredients into a 2 litre baking dish and put in oven.
Bake for 20 to 25 minutes.