fawn512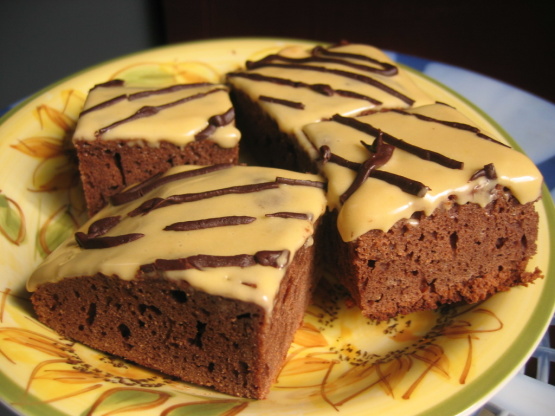 A brownie recipe in honor of English Inventer, William Horlick, who invented malted milk in 1883. These delicious brownies were found in Esther Brody's "The 250 BEST Brownies, Bars & Squares" Cookbook. For an added treat, chop malted milk balls or a malted milk chocolate bar into pieces and sprinkle over the top.

i can't give a rating so i' ll just comment. Baked them for 30 min and they were overbaked, they turned out dry. Next time i'll reduce the baking time. The frosting lacks malt taste, i was expecting more. I also drizzled some chocolate, to give a nice presentation
Preheat oven to 350°.
In a bowl mix together flour, baking powder and salt.
In a saucepan over low heat, melt chocolates and butter stirring constantly, until smooth, Remove from heat and set aside to cool slightly.
When mixture has cooled stir in sugar. Add eggs and vanilla and beat until blended. Blend in flour mixture.
Spread batter evenly in prepared 9 x 13-inch cake pan.
Bake in preheated oven for 25 to 30 minutes, until tester inserted in the center comes out clean. Place pan on a rack to cool completely.
Topping-In a bowl combine milk, vanilla and malted mild powder until blended.
In another bowl, cream butter. Gradually add confectioner's sugar, alternately with milk mixture, beating well after each addition until mixture is smooth and spreadable.
Spread evenly over cooled brownies. When topping is firm, cut into squares.