Malted Milk Ball Cupcakes
HocoRuco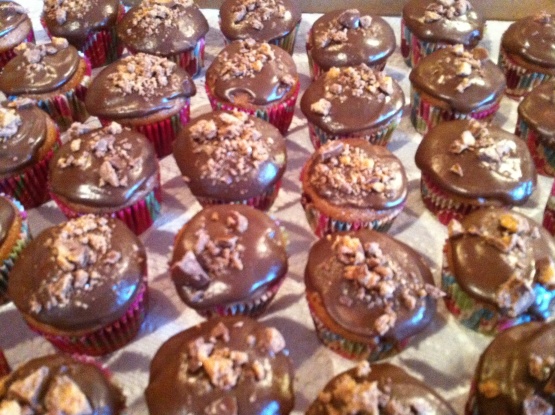 I was thumbing through this cookbook and found this recipe. Sounded really good and they are.

These were very good cupcakes. I actually did love the cake part of the cupcakes but it was the frosting that didn't thrill me so they only get four stars instead of five. Just for the reference of future chefs, 1 cups of chopped malt balls is about 20 medium/normal sized malt balls (like the kind they sell in bins at the grocery store and movie theater).
I made a couple of modifications to the cake recipe so maybe it isn't quite fair of me to review them but I thought I should since really they are tasty and I tend to avoid foods with no reviews because they could be horrible.
Instead of yellow cake mix, I used white cake mix because it was what I had.
I doubled the amount of malt powder in the cake itself because I wanted them to be very malty. I used instant Chocolate Malt powder by Ovaltine.
I had to use egg beaters because I only made half a recipe and it is very difficult to use 1-1/2 eggs.
I also slightly reduced the amount of oil in the batter (instead of 1/6 cup for the half recipe, I used 1/8 cup)
I made mini cupcakes instead of full size ones. Bake time: 14 minutes. Yield: 41 mini cupcakes. Approximate caloric content: 60 per mini cupcake
The frosting was not great. I thought it was kind of chocolatey for the cupcakes. It might have been good to mix in some crushed malt balls here and then top with a half or whole malt ball. I don't know really how to improve this frosting. Maybe some marshmallow fluff would make it lighter in texture and tastier. Not sure.

Cake: 5 stars
Frosting: 3 stars
Fun factor: 4 stars
Overall: 4 stars

Note: I sent these to work with my mom just to get them out of my house and she got tons of thank yous and compliments. They may not be my cup of tea exactly but clearly other people really liked them.
cupcake

1

(18 1/4 ounce) box yellow cake mix

1

cup malted milk balls, coarsely crushed
1⁄4 cup natural-flavor instant malted milk powder
1 1⁄4 cups water
1⁄3 cup vegetable oil

3

eggs

frosting and garnish

1⁄4 cup butter, softened

2

cups powdered sugar

2

tablespoons natural flavor instant malted milk powder

1

tablespoon unsweetened baking cocoa

2

tablespoons milk
1 2⁄3 cups malted milk balls, coarsely crushed
Heat oven to 350 degrees. Place paper baking cup in each of 24 regualr size muffin cups.
In a large bowl, mix cake mix, 1 cup malted milk balls and 1/4 cup malted milk powder.
Add water, oil and eggs. Beat with electric mixer on low speed 2 minutes. Divide bater evenly among muffin cups.
Bake 18 to 23 minutes or until a toothpick inserted in center comes out clean. Cool 10 minutes, remove from pan to wire rack. Cool completely, about 30 minutes.
In a medium bowl, beat all frosting ingredients except malted milk balls on medium spped until smooth. Frost cupcakes. Sprinkle with 1 2/3 cups malted milk balls.