fawn512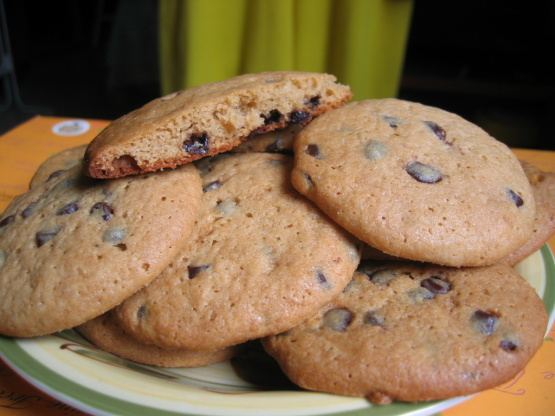 I've been searching for malt flavored cookies without any chocolate syrup in the recipe. And I found these from cooks.com. They tasted like chocolate chip cookies, these are very soft and chewy. Don't forget to chill, or if you don't have time, freeze the dough, for they'll turn flat if not chilled.

Good cookies but true - they don't taste very malty - more like plain old chocolate chips cookies, although there is a bit of a malty aftertaste. I think next time I'd try adding a little more malt powder - can't hurt! But no complaints here - they're being eaten! Thanks.
Heat oven to 300°. Have ungreased cookie sheets ready.
In a bowl mix flour, malted milk powder, baking soda and salt.
In a large bowl, mix sugars with an electric mixer. Add butter and beat until blended. Add vanilla, condensed milk and eggs. Beat at medium speed until pale and fluffy, about 2 minutes.
Add flour mixture and chocolate chips. Mix at low speed until just blended. Do not over mix. Chill dough til firm enough to scoop out. Drop rounded tablespoonful on ungreased cookie sheet.
Bake 23 to 25 minutes until cookies are slightly brown around edges.