J Wong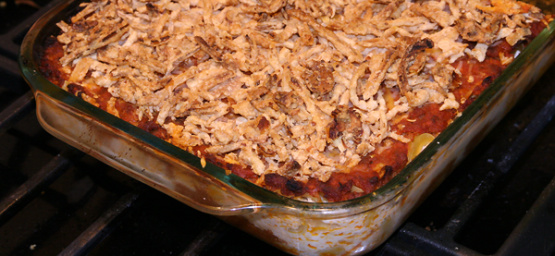 An incredibly easy recipe that's filling and delicious! Serve this instead of your tired and boring spaghetti and meatballs.

I cut the recipe in half, except for the shredded cheese. Added mushrooms and a little no salt seasoning. Brought leftovers into the shop for the guys, and they inhaled it. They asked for the recipe. This could be really good with Rotel diced chilis and tomatoes, instead of tomato sauce, with some cumin or taco seasoning in the meat. I think this will be a great pot luck dish.
Cook the ground turkey, garlic, and onions in a large skillet until 75% done. Add tomato sauce and sugar and cook until done. Add salt to taste.
Cook noodles according to package directions.
In a separate bowl, combine cream cheese, sour cream, and grated cheddar cheese and mix well.
Preheat oven to 350 degrees.
In a large casserole dish, layer noodles, then meat, then all off the dairy mixture. Finish with another layer of noodles then meat.
Bake for 20 minutes then remove and sprinkle a layer of fried onions on top. Return to oven for another 10 minutes. Then remove and enjoy!