teresas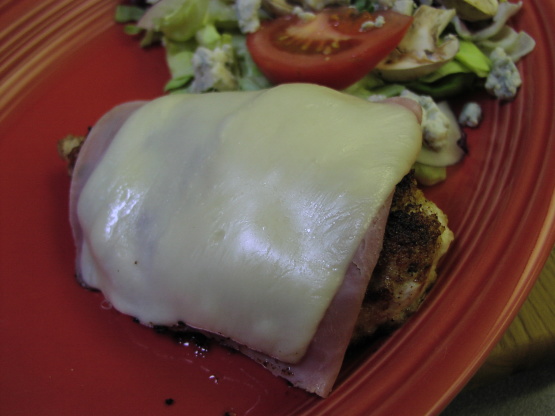 A copycat from the menu of "Sizzler", which was a copycat of "Monterey Chicken", which was a copycat of "Chicken Cordon Bleu".... So copy away.

We make this dish even easier. Instead of breading the chicken we like to use the pre-made chicken patties from Costco or Sams Club and put the ham and cheese on top. By doing it this way the dish takes about 4 minutes to prep.
Stir egg and 1 tablespoons water together with a fork.
Combine flour, salt and pepper and coat each chicken piece, dip into egg mixture and then coat with breadcrumbs making sure to press crumbs in firmly.
Heat oil and butter in large skillet over medium heat.
Brown chicken 4 to 5 minutes on each side.
Place browned chicken on cookie sheet or oven proof platter, top each piece with a slice of ham and slice of cheese.
Bake at 350 degrees, until cheese melts.
For the dipping sauce combine mustard and mayonnaise.