Malay Curry With Beef or Lamb
Peter J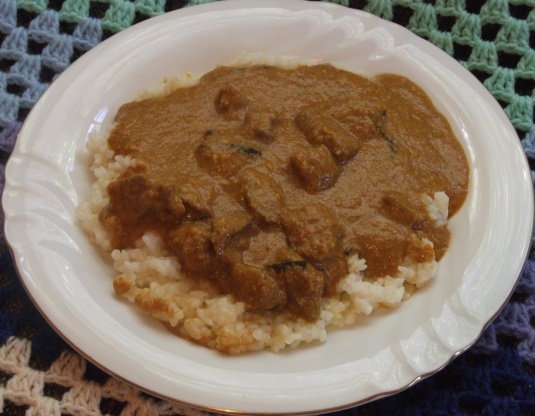 From Malay, in South Africa.

Now this made a wonderful lamb curry! Full of complex flavor and had a great aroma both during cooking and while serving. I used two whole Thai red chillies with the seeds left in place which gave the amount of heat I wanted, it wasn't scorching hot but you knew you were eating a curry. Only changes I made to suit what I had on hand was to use a a teaspoon of minced fresh lemongrass instead of powder and clarified butter instead of the ghee. I served over rice but would go great with mashed potatoes as well. Because of the oven cooking it does stay hot quite a while so it's worth removing from the oven about 10 minutes before serving to let it cool and thicken a bit more.
Add enough water to the spices to make a stiff paste, then let stand for a few minutes.
Make a puree of the onion, garlic, hot peppers, bell pepper, and ginger.
Heat the oil and fry the spice paste for 5 minutes or so; stir to prevent sticking. Then add the puree and fry for 15 minutes.
Combine the cubed meat with the above in a casserole and place in an oven preheated to 375°F Cook for about 1 hour.
Meanwhile heat the milk with the coconut cream.
Halfway through the cooking of the casserole, add the coconut cream, flaked coconut, and tamarind puree to the dish. Stir, and add water or stock if it needs it.