Malai Mixed Vegetable Curry
tamalita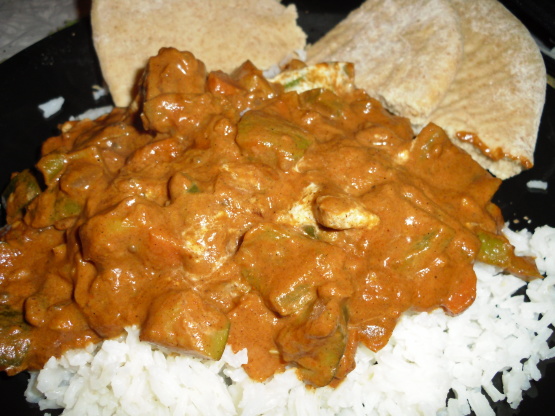 Delisious curry, eay to cook, a good vegetarian dish. However should you want to add some chicken to the recipe, it still works well, and, saves having to cook a separate second dish. You can sub the cream for yoghurt, and use any vegetable of your chosing.
3

tablespoons oil

3

red chilies, seeded and chopped

6

cloves

4

cardamom pods, open at one end

1

inch cinnamon stick, broken up

1

onion, chopped

6

garlic cloves, chopped

1

teaspoon ground ginger

1

potato, in 1-inch cubes

1

carrot, sliced into rings

1

courgette, cubed

4

ounces green beans, in 1-inch pieces

1

green pepper, seeded and diced
1⁄2 teaspoon chili powder
1⁄2 teaspoon cumin powder

1

teaspoon coriander powder
1⁄2 teaspoon turmeric

140

g tomato paste

5

fluid ounces single cream

1

teaspoon salt

1

teaspoon garam masala

2

tablespoons coriander (to garnish)
Heat the oil in a pot. Add the red chillies, cloves, cardamom, cinnamon stickand the bay leaves. Cook till the bay leaves turn golden brown.
Add the onion and cook for 2 mins, reduce heat and add the garlic and ginger, fry for 4 minutes.
Add all of the vegetables, sprinkle with the chilli powder, add the corriander powder, cummin powder and turmeric. Stir well to incorporate the spices.
Add 1/2 cup of water, mix cover pot and cook for 15 mins, do not let the pot dry out. Add water if the pot becomes too dry.
Add the tomato paste and salt. Reduce heat to low and cook covered till veg is tender.
Stir in the cream and garam masala. Recover the pot and remove from the heat, allow to stand for 2 mins before serving. Garnish with the fresh chopped coriander.
Serve with plain boiled rice.