Makrout a Louz - Algerian Almond Cakes #2
Um Safia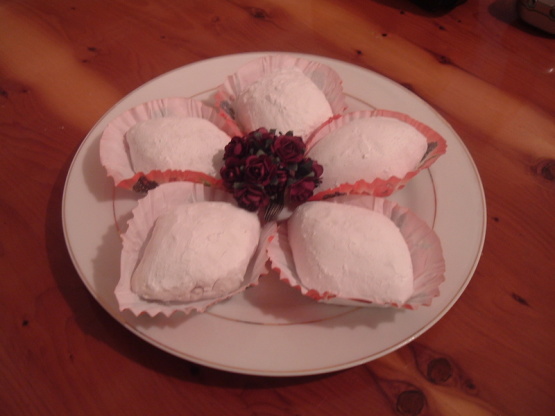 Delicious little diamonds of tangy almond delight! Easy to make and very much appreciated by all. Perfect for Eid celebrations or any special (or not so special!) ocassion. This is for the lemon ones - more traditionally they are lime.... You can freeze these and then put the syrup and icing sugar on later. I like to make a few things in advance so I'm not cooking 24/7 just before Eid etc. I also make these with a mix of 250g desiccated coconut + 100g ground almonds - just as tasty & a fraction of the cost!

A really yummy recipe that both my Algerian husband and I love. The first time I made this before he was my husband he was so excited and surprised to have an authentic Algerian sweet. I have since played with lime and coconut versions but this one is the best.
Place the first 4 ingredients in a large bowl and mix well - traditionally with your hand.
Dust work top with a little cornflour and roll mixture into a sausage shape - approximately the thickness of a frankfurter or average thumb!
Cut the sausage into 3cm pieces. Do this at an angle to create lozange or diamond shapes.
Bake on middle shelf at approx 170c until set & still pale - about 12-14 minutes THEY SHOULD NOT BE DARK.
When cooled slightly, drop one by one into the syrup. Hold on a fork and allow excess to dribble off before slowly dropping into the sugar. Re-dip with sugar 15 mins later and pop into paper cases.
For the syrup you can make it easily by putting 2 cups of water and 1 cup of sugar in a pan and boiling for 10 minutes It needs to be nice and light - just enough to hold the icing sugar on.