Makroud El Louse (Algerian Almond Cookies)
Jubes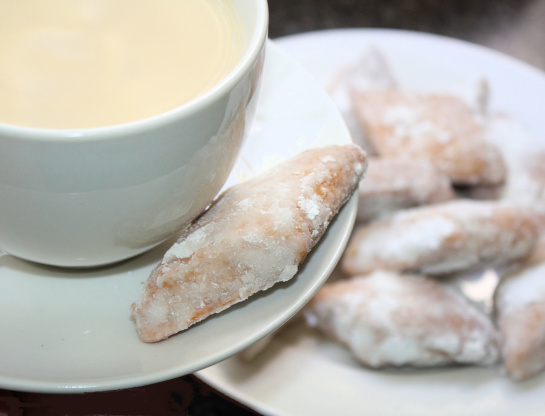 Found online, posting for ZWT6 (NA*ME/Algeria).

These small cookies are wonderful. I made them over the weekend for some friends who were dropping by and they didn't make it through the first round on cards. I didn't try them myself because of the heavy sugar content but by the way fingers kept going back and back to the tray and the fact that Cheryl ask for the recipe with a smile they have to be top drawer. The hardest part of making them was not sampling! I think that everyone who tries these (and likes almond's, lol) is going to fall in love with them.
Preheat oven to 350°F.
Place the almonds and sugar in a food processor and process until the almonds are finely pulverized. Remove to a bowl.
Make a well in the center of the almonds and stir in the eggs with a wooden spoon until the dough starts to come together. Then knead the dough with clean hands until smooth.
Cut the dough into 4 equal portions and remove to a floured work surface. Roll one portion out into a rope about 3/4 inch in diameter. Press down with your palm to flatten the rope to about 1/2-inch thickness. Cut the rope on a diagonal into 1-inch pieces and remove to an ungreased cookie sheet. Repeat with the remaining dough.
Bake cookies for about 12-15 minutes, or until they are lightly browned on top. Remove to racks and cool completely.
While the cookies bake, bring the water and 1/2 cup sugar to a rapid boil in a saucepan over high heat. Stir to dissolve sugar and let boil for 10-15 minutes. Remove and cool to room temperature. Stir in the orange flower water.
Put powdered sugar in a large bowl. To finish, dip each cookie first in the sugar syrup to wet. Then toss each cookie in the confectioner's sugar to coat well. Place on a rack to dry and repeat with the rest of the cookies.
Variations:.
Add 1 tablespoon lemon zest to the almond dough if you like.
If you are unable to find orange flower water to flavor the syrup, try using 1 teaspoon of lemon essence instead.