Makes Your House Smell Amazing Chicken Parmesan
gailanng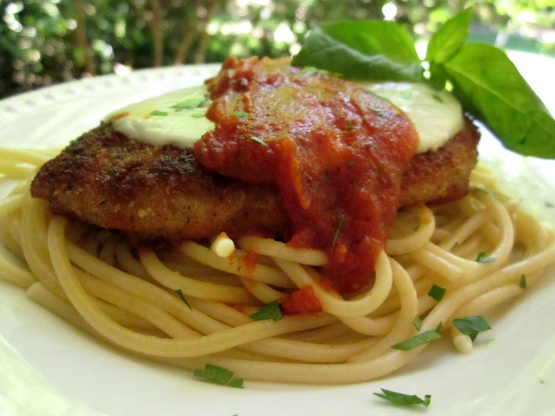 chicken parm is my MOST favorite thing my Mom made (tied with eggplant parmesan) for my wedding which was casual...she made chicken parmesan. thats how great it is! By using the sliced thin chicken breasts...it eliminates having to do it yourself and also it really tastes like you ordered it at the best italian restaurant around!

I have always been a bit nervous about recipes that don't have the exact ingredient amounts listed, even though that is how I always cook! But I decided to try this anyway as I wanted something special for dinner for my DD and her new fiancée. I used 1 teaspoon of milk in the eggs, 2 cups of the breadcrumbs and 1/2 teaspoon of each of the spices. I made Recipe #56260, used 1 cup of mozzarella cheese and 1 cup Parmesan. Between the smell of this dish and the sauce, my house did smell amazing. But it was nothing compared to the amazing taste of this meal. As Bri22 says, it is just like you ordered from a great Italian restaurant. And I found out after I made it, and my future son-in-law ate 2 heaping plates of this that this is what he always orders at an Italian restaurant. Everyon loved it! This is going to be a regular at our house as it is also really easy to make!
pre-heat oven to 325.
mix breadcrumbs and all seasonings.
dip dip chicken into egg mixture and then into breadcrumb mix, coat generously.
heat olive oil in frying pan.
fry chicken until fully cooked, try not to over cook since it still goes in the oven.
place chicken side by side in shallow baking dish.
pour sauce over chicken.
sprinkle cheese over top.
bake covered for 15-20 minutes.
remove cover untill cheese is bubbly.