Make Your Own Instant Cocoa Mix - Homemade Substitute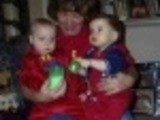 This is nice to have on hand for teens after a game, or for any group who is coming to visit. Cheaper than buying the individual envelopes. Also, easy to put together.
Directions
Sift all ingredients together 3 times.
Place in a tightly covered container and store in a cool place.
Combine 1/3 cup mix with about 1 cup hot water to make one serving, or 1&1/3 cup of mix with 1 quart hot water to serve four.
Most Helpful
Thanks Trisha for a great hot chocolate. I usually guess at the amount of milk powder and chocolate and it is never just right. Now I just scoop it out and I'm set to go :-). I used skim milk powder and 1 cup of drinking chocolate - I might add another 1/4 cup of chocolate next time I make it up though. So glad I found this recipe.

I really enjoyed this mix. I think I'll go to the health food store next time to get dry organic milk as well as cocoa too! Thanks for a very nice recipe!

I too used a 10 pound container cause I love my cocoa really chocaltely. I put all the stuff in the blender and I was amazed, it turned into really fine powder that looked identical to the store bought stuff. If I were to put it in the Quick container you would never know I made it. Plus no additives or perservatives which is a big plus in my book. Thank you for the recipe.