Make Your Own Greek Yoghurt
PaulaG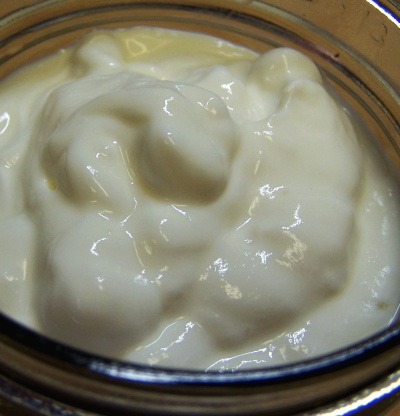 Greek yoghurt is awesome stuff. Thick, creamy, rich beyond belief, but still lighter in fat than commercial sour cream, and a great sub for it. Now you can make your own! This is from gourmetsleuth.com. Time to make is approximate, as there is an overnight process involved.

I bought a small container of Greek yogurt at the store out of curiosity and was immediately addicted. But at a dollar per serving, I knew I had to find a way to make this at home. I've been making this recipe for about 6 months now, and it's awesome! I've tried it with both skim milk and whole milk, both with very good results. I've also upped the yield by heating up a gallon of milk and using an entire serving of cheap-o plain yogurt for the culture. Just really keep an eye on the temperature with this recipe, and all will turn out fine! I once took the milk off the heat before it was hot enough, and I ended up with runny, gross yogurt that came through the cheesecloth. What a waste! Also, something I just tried with today's batch which works wonders -- place the cheesecloth in an embroidery ring slightly bigger than the bowl that you're using to catch the drippings, making sure the cloth is very taut. Just place the ring over the bowl's mouth, pour the yogurt on the surface of the cheesecloth, and let it drain. This keeps your yogurt from sagging down into the drippings, allows you to not rig up some intricate yogurt-bag-hanging arrangement, and, best of all, cleanup is a BREEZE! Love this recipe! Thank you for posting this, Evelyn/Athens!
1

liter full-fat milk

2 -3

tablespoons plain yogurt (room temperature) or 2 -3 tablespoons of home-made yoghurt, mixed with a few tablespoons of milk, to thin (room temperature)
Bring milk to just under boiling point and then pour the milk into a glass or earthenware dish. Let the milk cool to about 42°C/104°F Pour the yogurt/milk mixture into the milk carefully without disturbing the skin that may have formed on the surface of the milk. Cover with a cloth, place in a warm, draft-free place for 8 to 12 hours or overnight, and do not disturb it until the yoghurt thickens. Drain any excess liquid and store in the fridge.
To make a "thick" yoghurt, remove the skin on the surface of the yoghurt (this is edible, btw, and lovely sprinkled with a bit of sugar) and pour the yoghurt into a muslin or cheesecloth bag. Hang the bag over a bowl and let drain for about 2 hours or until the desired thickness is obtained.
Note: I have now made this recipe using 2% milk and have achieved very good results. Obviously, richness is lost, but so are calories (and fat). ;-).