Make Your Own Chocolate Cake Mix
Debber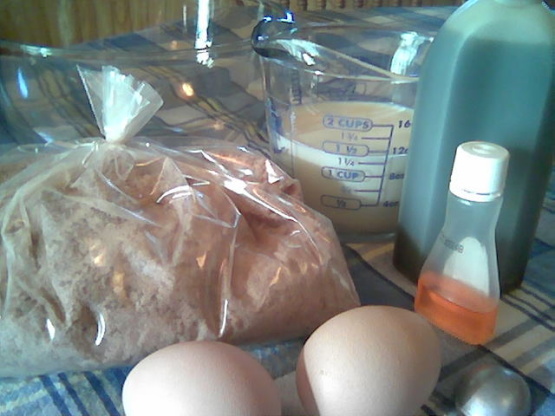 This is for when you want to make a recipe calling for chocolate cake mix and you don't have one on hand. Found on Recipelink.com, originally from Make Your Own Groceries.
This wasn't anything like a boxed cake mix. Had the taste and texture of sweet cornbread and made my cupcakes have a sticky hard outer crust. I'm looking for something that is as fluffy and moist and delicious as a boxed cake mix that I can make myself. This wasn't it. The batter itself didn't even smell that good. I've been looking for a cake mix recipe for a very long time and consider myself a seasoned baker (haha cooking pun). I haven't found a recipe that fits the criteria yet.
Mix together flour, cocoa, soda, and salt; stir to blend.
Mix in sugar.
Cut the shortening into the dry ingredients until the mixture looks crumbly.
Label and store in a sealed plastic bag at room temperature. Makes 1 package of mix.
Each package makes two 8 or 9 inch layers or one 9 x 13 x 2 inch rectangle.
TO USE:
Pour 1 package of mix into a mixing bowl.
Add 1 1/4 cups milk and 1 teaspoon vanilla or orange extract.
Using an electric mixer, beat at a slow to medium speed for 2 minutes. Scrape the sides of the bowl frequently.
Add 2 eggs; beat 1 minute more.
Grease and dust with flour your choice of pan(s).
Spread batter evenly in pans.
Bake round cake pans at 350 degrees F. for about 30 minutes or until a toothpick inserted in the center comes out clean.
Bake the 9 x 13 inch pan for 30 to 35 minutes or until a toothpick comes out clean.
Cool cakes in their pans for 10 minutes before turning out onto racks.
CHOCOLATE CUPCAKES: Pour cake batter into greased cupcake tins or tins lined with paper baking cups; fill 1/2 to 2/3 full. Bake at 350 degrees F. for 20 to 25 minutes or until a toothpick comes out clean. Makes about 2 dozen.