"Make That Chicken Dance" Salsa Pasta
Bergy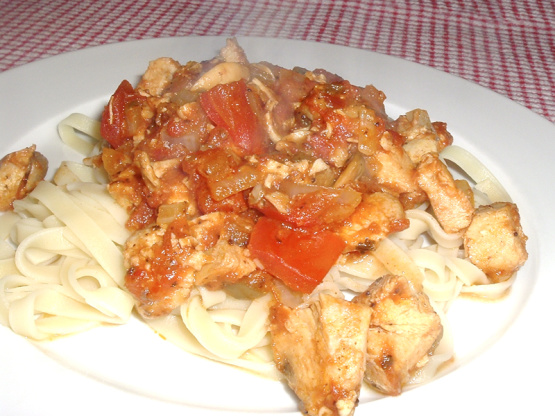 I made this up the other night after I started to make Mirjam's Penne Arrabiatta (#22941) but discovered I was missing a few ingredients. Like the Italian dish I meant to make, this one is also spicy and loaded with garlic. I'm sure it would be even more flavourful with fresh herbs, but dried ones were all I had on hand.

Everyone inhaled this! I used a large can of diced tomatoes (they aren't great in Michigan in January!), omitted the mushrooms, and cut the Tabasco in half to make it more kid friendly. Used a whole pound of rotini. Thanks Sackville!
Heat oil in a frying pan and sauté the onions and mushrooms until soft, about two minutes.
Add the water, tomatoes (with all their seeds and juice), garlic, oregano, basil, parsley and hot sauce.
Simmer over low heat for 6-10 minutes or until tomatoes are soft and enough water has evaporated to form a relatively thick sauce.
Add salsa and chicken.
Simmer until heated through.
Cook pasta of your choice (I like fusilli or penne) until al dente.
Serve sauce over hot pasta, top with parmesan cheese and freshly ground black pepper.