Make Ahead Turkey Roll Ups
gertc96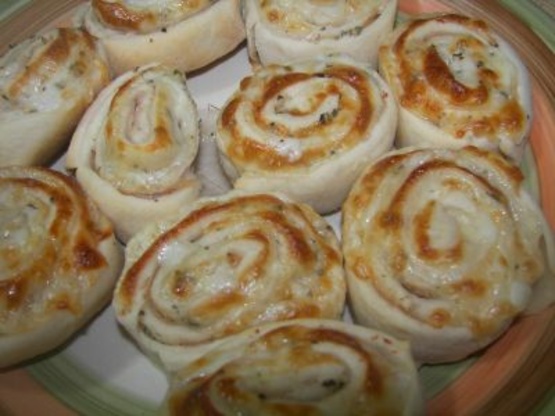 A tasty turkey snack using an easy dough recipe! Includes rising time. I have used different sliced meats and cheese combo as well as spices. Feel free to mix it up!

I thought I had reviewed these! I made this summer to take camping. Used your dough, but put it all in my Bosch to knead. I used freshly ground whole wheat and had not issues with the dough. I made 2 batches and did one with ham and one with turkey, but sprinkled with cheddar cheese. I also put some mustard on the ham ones. After baking, I froze to take camping. Great finger food. No mess and everyone liked them.
Preheat oven to 400.
Combine yeast warm water and oil and let sit for about 5 minutes. Stir in salt and flour a little at a time until mixed.
Knead for a few minutes until soft adding a little flour if needed.
Put in an oiled bowl and cover for about 20-30 minutes until well risen.
Roll dough out onto a rectangle with dough being thinner than pizza crust.
Top dough evenly with slices of turkey then cheese then sprinkle with spices.
Roll very tightly like making cinnamon rolls.
Slice into about 16 rolls.
Place on greased baking sheet and bake for about 10-15 minutes or until nicely browned.
Baking time will really depend on how thin or thick you roll out your dough so watch carefully!
To make ahead bake as directed then cool and put in freezer bags and freeze. To serve pop in the microwave until heated through.