Make Ahead Mashed Potatoes (Oamc)
gailanng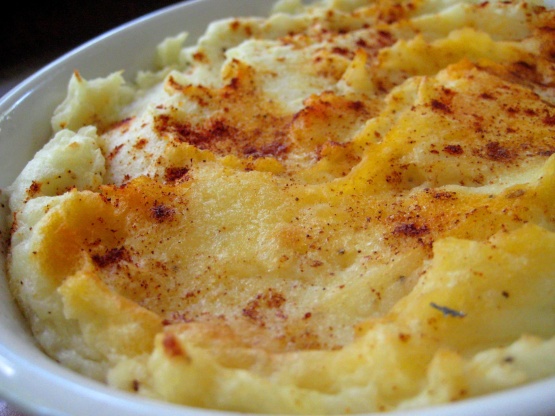 You'll love having this side dish handy. Recipe makes 7 cups of mashed potatoes.

Top Review by Aeraen
These are the best! I doubled the recipe when my husband came into a great deal on 10#s of potatoes. Then I froze some in zipper bags and some in 6 oz glass dishes. Once frozen, I popped them out of the dishes and into zipper bags, so we could cook individual portions. Great for teenagers with wacky schedules.
ASSEMBLY DIRECTIONS:.
Peel and quarter potatoes.
Place the potatoes in a saucepan and cover completely with water.
Bring to a boil, then gently cook until tender.
Drain well.
In a large bowl, combine potatoes, cream cheese, egg, garlic powder and salt.
Mash well by hand or with and electric mixer.
Spoon potatoes into spray-treated or greased 3 quart casserole or 9x13 pan.
Drizzle or brush melted butter over potatoes.
Sprinkle with paprika for color if desired.
FREEZING AND COOKING:.
Label and freeze in freezer bags.
TO SERVE:.
Thaw completely.
Bake at 375 degrees for 30-40 minutes until the top is golden.