Make-ahead Glazed Sprouts & Onions
Lois M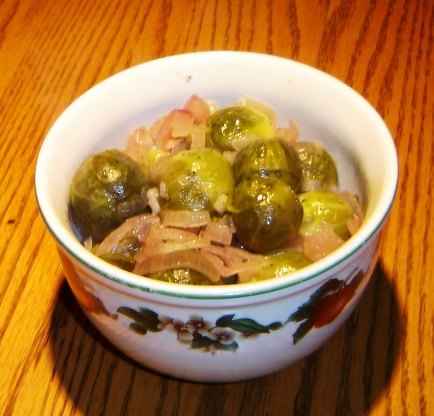 You don't have to make this dish ahead of time but it makes those special occasion dinners less hectic to prepare!
Rinse sprouts, trim stems& remove loose outer leaves.
Cut a cross in the stem bottoms.
If larger than a walnut, cut in half.
Seal in a plastic bag& refrigerate until ready to cook- up to 2 days.
Slice onion into rings& cut rings in half.
Saute in butter over medium heat until softened, about 5 minutes.
Add broth, sugar, vinegar, pepper& salt (if using unsalted broth) and bring to a boil.
let cool, place in a covered jar& refrigerate until ready to assemble.
To assemble, combine sprouts& jar contents in a large pan set over medium-high heat.
Bring to a boil, then reduce to medium-low.
Partially cover& boil gently, stirring often, until sprouts are fork-tender, from 15- 17 minutes.
Place in a serving dish& sprinkle with dill.