Make-Ahead Cheesy Garlic Bread
ImPat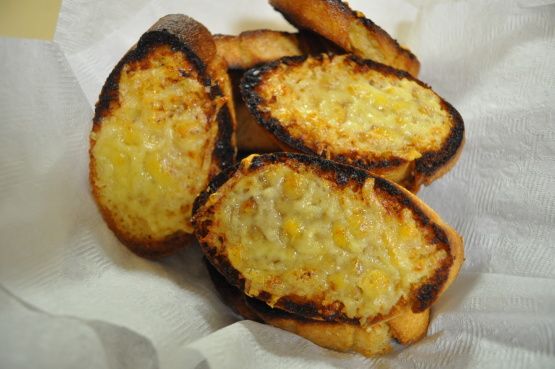 This was inspired by SaraFish's Incredibly Delicious Cheese Garlic Bread Spread (highly recommended). I've adjusted a few ingredients and transformed it into a make-ahead recipe that you can keep on hand in your freezer for a quick side to spaghetti, etc.

Top Review by ImPat
I had enough of a baquette in the freezer which I knew I could slice up and make for tonight for us but will look forward to making the Make-Ahead method. With the baquette I slice it to suit and toasted the sliced on each side under the grill/broiler (we like the bread crunchy not soft) and then proceded using a sharp cheddar cheese (would loved to have added fresh parmesan but I'm the only one who really likes it) but have just realized I forgot the parsley. Thoroughly enjoyed thank you Chef Itchy Monkey, made for ZAAR Cookbook Tag.
Split sandwich rolls in half lengthwise and set aside.
Place peeled garlic cloves into food processor and pulse a few times to mince.
Add softened butter, garlic powder, black pepper, and half of the cheese. Process mixture until smooth and fluffy.
Spread generously onto each sandwich roll. Place rolls face up on a large baking sheet. Sprinkle remaining cheese onto the rolls, pressing down to make it stick. (note: you can process all the cheese with the butter, if you want. It works either way.).
Sprinkle rolls with dried parsley.
Cover and freeze until firm, then store in sealable freezer bags.
When ready to bake, take out the number of frozen rolls you want to serve, and bake at 450°F for about 7-10 minutes until cheese is melted and lightly browned around the edges.