Make Ahead Breakfast Sandwiches
loof751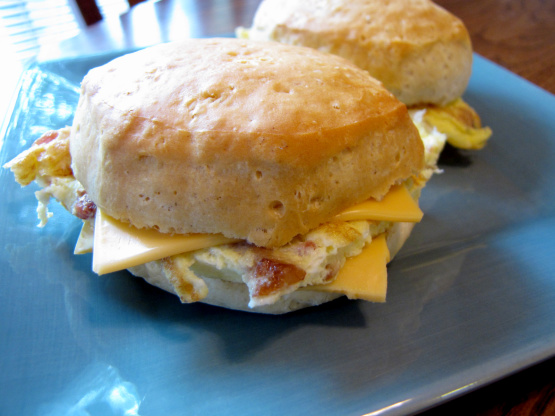 I started experimenting with breakfast ideas for my husband who is too busy at work to sit down for long to eat. The seasonings, cheese, meat and bread I have listed are just suggestions (my husband's preference). Add veggies if you like! The possibilities are endless! If you want to cut down on the meat and save some money, replace part of the sausage with textured vegetable protein. It will take on the flavor of the sausage and make it a little lower in fat. Just follow the directions on the TVP package to prepare. TVP is usually in the health food section at the store.

These were actually pretty quick and easy to make. To save on time and trouble, I added a small amount of garlic powder (not garlic salt) to the egg mixture before cooking. I also didn't bother buttering the biscuits. I'm sure it's good that way, but for the amount of time involved in buttering and salting all those biscuits, I just felt it was easier (and a tiny bit healthier) to skip the butter and add garlic powder to the egg mixture instead. I also drained the sausage before adding in the eggs. There was still plenty of grease on the pan to keep the eggs from sticking. I think if I hadn't poured off the excess fat, these would have turned out too "heavy" for me. I also used American cheese singles for this, because I had a bunch of them on hand, and it was easy to just fold the cheese slices into quarters. When adding the eggs to the sausage mix, I stirred the mixture gently a couple of time while it was cooking, just to get it to cook evenly. When it was mostly cooked (but still just a bit wet), I removed it from the heat and covered the pan with a lid to finish cooking. The eggs hold together well this way, making it quick and easy to assemble the sandwiches. I love breakfast sandwiches, but since they aren't too healthy, I don't often have them. I thought this recipe was a nice (and economical) compromise that allowed me to have the sausage flavor without actually having an entire slice of sausage on each biscuit. It's still not diet food, but it is less fat than a traditional sausage, egg, and cheese biscuit! Good recipe. I liked this one a lot. Will definitely make it again!
Bake biscuits according to package directions.
While biscuits are baking start browning sausage.
In a mixing bowl combine eggs dry mustard and pepper.
Add egg mixture to the browned sausage and cook until eggs are done.
After biscuits have cooled cut them in half and spread with butter.
Sprinkle buttered biscuits with garlic salt (DON'T add the salt to the eggs while they are cooking, the salt will make the eggs rubbery).
Cut cheddar cheese slices into fourths.
Put one fourth of cheese slice on bottom half of biscuit.
Spoon a small amount of cooked egg and sausage mixture onto the bottom half of each biscuit (on top of cheese).
Place another fourth of a cheese slice on top of the egg and sausage mixture (putting the cheese on this way "glues" the sandwich together when it is reheated).
Place top of biscuit onto sandwich.
Wrap each sandwich in wax paper and put them in large freezer bags.
Place them in the freezer.
To reheat, leave sandwich in wax paper and microwave on high for approximately one minute to a minute and a half.