Make Ahead Bacon and Cheddar Stuffed Mushrooms
Pamela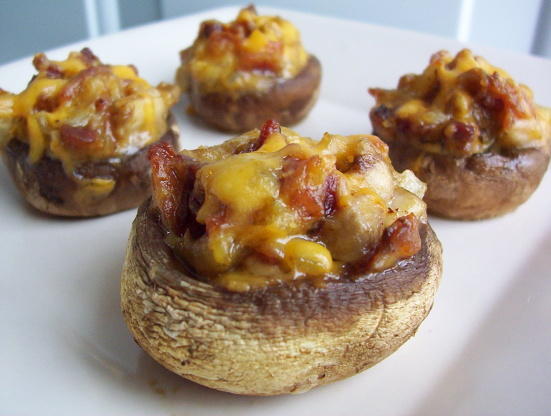 I was looking for make ahead appetizer for the holidays and found this one. It's hard enough during those times to get the "meal" on the table. I thought I'd make it a bit easier on the appetizers!

Top Review by ByNDii
Mushrooms, Bacon, Cheese, Onion.. My favourite foods all in one!! These turned out absolutely delicious. Next time though, I may salt the mushroom caps first to give the mushrooms a bit more flavour. You get a hit of wonderful cheesy bacon, and then a rather bland mushroom. Still tasty though and will be making these often!
Place bacon in a large, deep skillet.
Cook over medium high heat until evenly brown.
Drain, dice and set aside.
Preheat oven to 400 degrees F.
Remove mushroom stems.
Set aside caps.
Chop the stems.
In a large saucepan over medium heat, melt the butter.
Slowly cook and stir the chopped stems and onion until the onion is soft.
Remove from heat.
In a medium bowl, stir together the mushroom stem mixture, bacon and 1 cup Cheddar.
Mix well and scoop the mixture into the mushroom caps.
Bake in the preheated oven 15 minutes, or until the cheese has melted.
Remove the mushrooms from the oven, and sprinkle with the remaining cheese.
Put into the oven for a couple of seconds to melt if desired.
To freeze: Flash freeze them before baking in the oven.
A freezer bag would work great for storing these.
Let defrost and then add cheese and bake in oven for 15 minutes.