Makaronia Me Feta - Macaroni and Feta
Parsley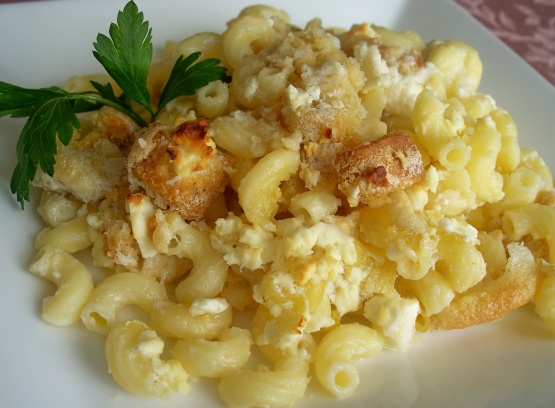 Different macaroni casserole, Greek style from Greek With Gusto! Croutons should be prepared in advance and can be stored in a covered container at room temperature for up to two weeks.

Nice way to do mac & cheese...though I did find it drier than normal mac & cheese. The croûtons on the bottom get lost in all the juice as do the ones on top. If I make this again, I will use all the croûtons on the very top (after I've poured the liquid mixture in and put the feta on top) to keep them crispy. Made for ZWT4. (-:
Preheat oven to 350°F.
Cook macaroni according to package directions. Drain, toss with melted butter and 1/2 cup of crumbled feta. Set aside.
Lightly oil a 9 x 13 casserole, sprinkle with another 1/2 cup of feta and half the croutons. Spread the macaroni mixtuer over this and top with remaining croutons.
Beat egg whites until stiff. In a separate bowl beat egg yolks lightly. Fold egg yolks into egg whites. Stir in milk, pour mixture over macaroni.
Sprinkle with remaining feta and bake for 45 minutes or until golden brown.
To Prepare Croutons:.
Cut half a loaf of day old bread into small bits and toss in a skillet over medium-high heat with 2 Tbsp olive oil and 2 Tbsp of butter. Spread on a baking sheet and bake for 30 minutes at 250°F Store, in covered container at room temperature for up to 2 weeks.