R.Lynn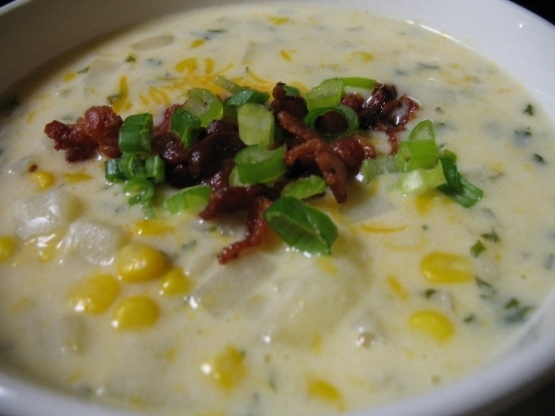 From the Michigan Dutch chapter of the United States Regional Cookbook, Culinary Institute of Chicago, 1947. An easy way to chop the corn might be to whirl it in the blender or food processor with the water and onion, THEN heating it to boiling. Hearty by itself or nicely garnished with chopped ham, crumbled bacon, cheddar cheese or parsley.

Hearty soup! Great for a cold, cloudy day. We changed the recipe slightly. We did 1 cup of corn and 2/3 cup of white rice. VERY GOOD! We also cut up and added 3-4 slices of deli ham. We crushed up saltines and spread cheese over the top! Very good!!! Great recipe!
Chop the corn, add boiling water and minced onion; cook for 15 minutes.
Strain.
Melt the butter and stir in the flour; blend well.
Add milk and seasonings; cook, stirring constantly for five minutes.
Stir in strained corn pulp and continue cooking for ten minutes.
Serve hot.