PamC6283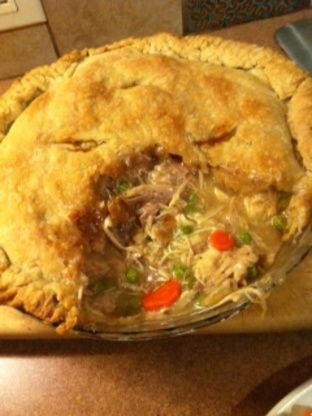 I got this recipe from my father-in-law. Best Chicken Pie I've ever had. Passive cook time reflects simmering chicken.
pastry for double-crust pie
1 1⁄2 quarts water

2

teaspoons kosher salt

1

small onion, chopped

1

carrot, pared and chopped

1

stalk celery, chopped
3 1⁄2 cups chicken broth
1⁄2 cup sifted flour
1⁄2 teaspoon onion salt
1⁄2 teaspoon celery salt
pepper, 3 grains

2 -3

drops yellow food coloring
Place chicken in a large kettle add water, 1 teaspoons salt, onion, carrot and celery. Simmer, covered until tender 3-31/2 hours.
Remove chicken, strip meat from bones, removing in large pieces, strain broth. Refrigerate chicken and broth when cool.
Combine flour, onion salt, celery salt and remaining 1 teaspoons kosher salt with 1/2 cup chicken broth, mix until smooth.
Put 3 cups chicken broth in skillet. Heat and add flour mixture with a wire whisk to prevent lumping.
Cook over medium heat, stirring constantly until mixture is smooth and thickened, add food coloring. Add chicken and blend well.
Line 9" deep dish pie pan with pastry. Fill with chicken mixture. Adjust top crust, cut vents and flute edges.
Bake 400' 45 minutes or until browned.