Annacia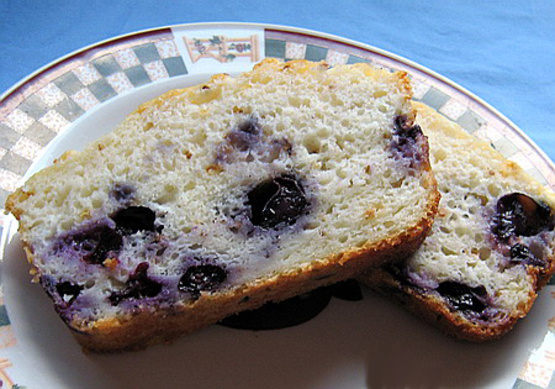 This recipe takes the cake!! I love it for breakfast, lunch and dinner. Best with fresh blueberries, but frozen will do too. Always coat the blueberries in flour before adding them to the mixture. I don't know why, but my mother taught me that.

The reason you coat the blueberries in flour is that they don't sink to the botton when the cake is baking. You will have blueberries in every bite. I have made this cake and it is absolutely delish!! THANKS!!
Cake.
Preheat over to 350°.
Coat a Bundt pan with cooking spray.
Dust the Pan with 2 Tbsp of granulated sugar.
Combine flour, baking powder, baking Soda and salt; set aside.
In a large bowl, beat together sugar, butter and lemon zest until fully incorporated.
Add eggs, one at a time and beat into mixture after each egg.
-Add vanilla and sour cream and stir.
Add dry ingredients and mix until fully combined.
Fold in blueberries.
Spoon batter into bundt pan and bake at 350° for 1 hour.
Cool in pan 15 minutes before removing and then remove cake from pan and cool completely.
Glaze: In a small bowl, mix powdered sugar and lemon juice.
Drizzle over cooled cake.