Mail Order 'powder-Free' Red Enchilada Sauce
Katzen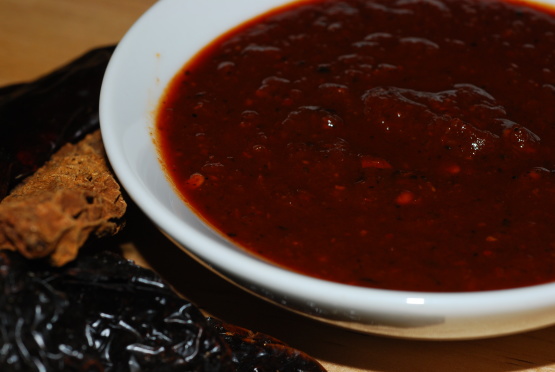 Where I live, decent canned enchilada sauce is not available. Since most recipes for homemade call for 'chili powder' (which is also suspect in these parts) I now buy many varieties of dried chiles via mail order. This recipe is fairly easy and does the trick for me.

Excellent recipe. Thank you so much for sharing. I had red chili sauce already prepared and had used this recipe: http://www.recipezaar.com/Red-Chili-Sauce-314038 I keep that sauce, as a base for many recipes as it saves me time. I prefer a very smooth sauce so I pureed the tomato (diced) with the chicken stock (I use better than boullion stock base). This really is a lovely sauce no matter how you how you alter the preparation. Thank you so much for sharing!
Wipe off the chiles with a damp cloth.
Tear the stems off the New Mexico and ancho chiles, then open them up with your fingers and pluck out the seeds and membranes, making jerky-sized pieces of chile.
Heat up the big sauce pan you will need later and 'stir-fry' the chile pieces until they smell nice (2-3 minutes).
Dump the toasted chiles and the chipotles into a medium-sized bowl, barely cover with hot stock, then float a smaller heavy glass bowl onto everything to keep the bits submerged. Soak for about 30 minutes.
Place the garlic, onion, spices and drained tomatoes into a blender.
Add the soaked chiles (including liquid), and puree until smooth.
Pour into the saucepan, add the tomato sauce and simmer for 30 minutes, adding stock to get the thickness you like. Season to taste.
To serve, I simply POACH corn tortillas right in the sauce for a minute or two (low fat trick), then pull them out one at a time with tongs, roll them around some pre-warmed filling (right on the plate), then smother with more sauce. No baking(impatient guy trick). Finish with a dollop of sour cream and a single black olive if you like.