Maida Heatter's East 62nd Street Lemon Cake
Prep 40 mins
Cook 1 hr 15 mins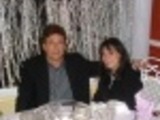 This is the famed lemon cake, from Maida Heatter's Book of Great Desserts, as reprinted in "A Holiday Tea Party", Good Food Magazine, December 1988.
Directions
Adjust oven rack 1/3 from bottom of oven. Preheat oven to 350 degrees. Butter 9x3-1/2-inch tube pan and dust it lightly with fine, dry bread crumbs.
Sift flour, baking powder, and salt and set aside. In large bowl of electric mixer cream the butter. Add the sugar and beat for 2 to 3 minutes. Beat in the eggs individually, scraping the bowl as necessary with a rubber spatula to keep mixture smooth. On lowest speed alternately add the dry ingredients in three additions and the milk in two additions, scraping the bowl with the rubber spatula as necessary and beating only until smooth after each addition. Stir in lemon rind. Turn the batter into prepared pan. Level top by rotating pan briskly back and forth.
Bake for 1 hour and 10 to 15 minutes until a cake tester comes out dry.
Let cake stand in pan for about 3 minutes and then cover with a rack and invert. Remove pan, leaving the cake upside down. Place over a large piece of aluminum foil or waxed paper and prepare glaze.
The glaze must be used immediately after it is mixed.
Stir the lemon juice and sugar together and brush all over the hot cake until absorbed.
Let cake cool completely. Use two wide metal pancake turners or a cookie sheet to transfer it to a cake plate.
Do not cut for at least several hours.
Most Helpful
30 years ago I won a blue ribbon at a county fair when I entered this cake. It is by far one of my favorite recipes. It tastes even better the day after you make it (when the lemon/sugar glaze has crystalized).
What a wonderful cake--as good asI remembered! My mother made it in the 60's. I rediscovered the recipe in the Timesin 1970. It's a glorious pound cake and an adaptable recipe--this time I made a small bundt and 8 heart shaped muffin-sized minis. All super. Thanks, Jackie!