Maida Heatter's Blueberry Muffins
BecR2400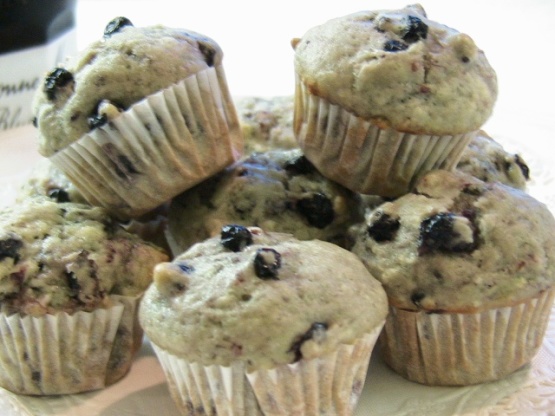 Posted here for safekeeping. Although she specified sifted flour, I believe today's flour does not require pre-sifting.

Yummy muffins--we really like the flavor combo of lemon with the blueberries!!! Used plumped dried wild blueberries instead of fresh ones, as that is what I had on hand. Also made mini muffins instead of full size-- I baked them at 375 d F and they were done in about 10-11 minutes. The muffins turned blue, but that is probably my fault! These tasted even better the next day! Made for the PAC Spring '08 event--thanks coconutty!!! :D Becky
Place rack in center of oven and preheat oven to 400°F Use a muffin pan with liners or a buttered, nonstick pan (for a better crust).
Sift together flour, baking powder, salt and sugar in a very large bowl.
Add blueberries; stir gently to mix.
In another bowl, beat egg lightly just to mix.
Add butter, milk and rind. DO NOT OVERMIX.
Add liquid ingredients all at once to dry ingredients.
Fold with rubber spatula only a few seconds until dry ingredients are barely moistened. Batter should be lumpy.
Fill muffin forms 2/3 full.
Bake 20-25 minutes until golden. Cool in pan 2-3 minutes.
Then cover with a rack, turn over pan and rack, and remove pan. Turn muffins right side up.