Ks136754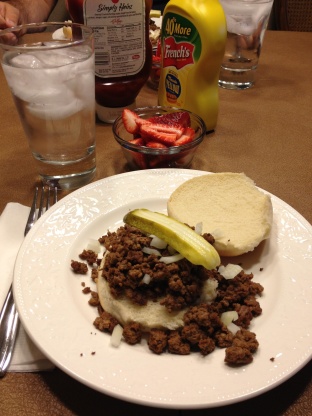 Traditional Maid-Rites from Marshalltown Iowa were served with only yellow mustard, pickle and onion. Ketchup was taken off the counters because the 'hobos' would take the ketchup to make tomato soup back when the restaurant first started. (A history lesson, who knew.) Here's the copycat version of maid-rites.

I've tried several Maid-Rite recipes and to me this is the closest to the real thing. My first Maid-Rite sandwich was in Marshalltown, Iowa when I was a young girl 30 years ago and this is exactly how I eat them still today (mustard, onion, pickles and no ketchup) whenever I order them from our local Maid-Rite restuarant. I've always been disappointed when I make them myself, until now! Thanks so much for sharing this recipe.
Brown beef; use potato masher to help get beef into small pieces.
Drain excess fat as soon as pink is gone.
Add 1 cup water and 1/4 cup beef broth.
Simmer the meat uncovered for 1 hour or until liquid is gone, stirring every 10 minutes or so.
When liquid is gone, put meat on a bun and top with mustard, onion and dill pickle.
Enjoy.