Rita1652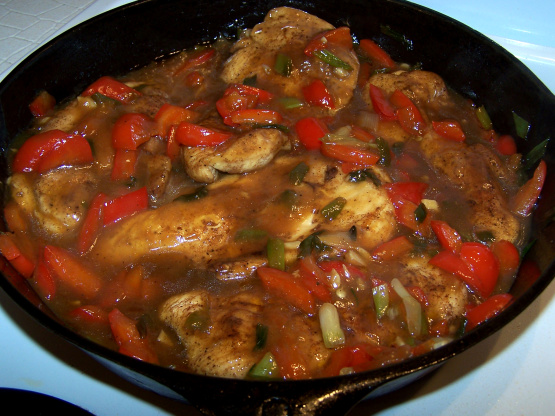 From a 1997 Eating Well magazine.

This was really good. I cut up my chicken beforehand so that it would soak up all the flavors and be easier to eat. I also added some cut up asparagus, and loved it that way. I served it over orzo, instead of rice. It was delicious! I made this for Comfort Cafe!
In a 2 cup glass measure combine rice wine, tea, juice, soy sauce and honey.
Set aside.
In a small bowl combine cinnamon, ginger, pepper and salt.
rub spices on both sides of chicken breasts.
In a large skillet heat 1/2 T. oil over medium high head.
Add chicken.
Reduce heat to medium and cook until golden outside and no long pink inside, 3-5 minutes per side.
Transfer to a plate and set aside.
Add remaining 1/2 T. oil to the skillet.
Add bell pepper, scallions and garlic.
Saute for 30 seconds.
Increase heat to high.
Add reserved rice wine-tea mixture.
Bring to a boil, scraping up browned bits.
Cook until liquid is reduced by half.
Reduce heat to low and return chicken and it's juice to skillet.
Simmer gently until heated thru, about 1 minute.
Slice chicken into thin diagonal slices and fan onto plates.
Spoon sauce and vegetables over chicken.