lazyme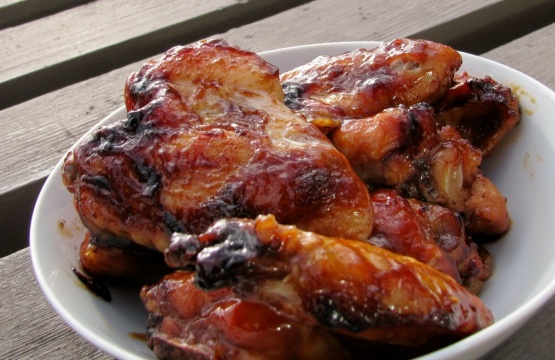 An excellent recipe by Christopher B. O'Hara.
In a large bowl, combine the plum sauce, hoisin sauce, soy sauce, vinegar, sherry, honey, scallions, and garlic. Reserve 1/2 cup of the mixture for basting in a separate small bowl.
Add the chicken wings to the large bowl, stir to coat, and place, covered, in the refrigerator for a minimum of 2 hours, preferably overnight.
Place the wings in a single layer on a large baking sheet. Place them in a preheated 350° F (175°C) oven and bake for 30 to 40 minutes, until crisp and brown. Baste every 10 minutes during cooking, and about 5 minutes before removing the wings from the oven.