Derf2440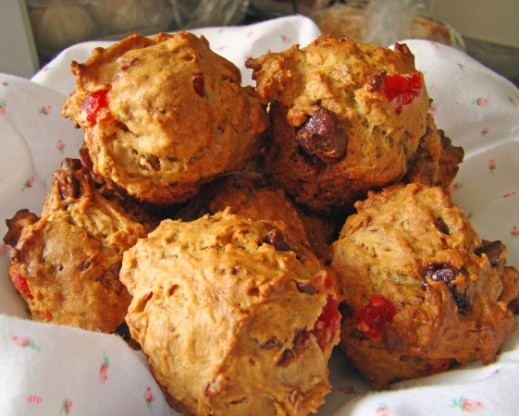 Sometimes, mini muffins are just perfect. These are full of great ingredients and the recipes makes lots for a crowd.

made these for a ladies luncheon plate, oh my are they delicious!! love the chocolate chip cherry combination!! and they are just the right size to finish off a luncheon plate. I left out the pecans cus i wasn't sure of people's allergies. thanks for posting , I will definately be making these again, DH loved them!! Had to come back to say I just got 30 muffins, they were about 3 bite size, just right for a ladies luncheon !
Preheat oven to 350.
Butter mini-muffin tins, enough to make 45 muffins.
Soften butter, then cream with the sugar. Beat until light and fluffy.
Add eggs, one at a time, beating until smooth.
Add bananas and beat.
Sift soda with flour. Stir gently into creamed mixture.
Fold in pecans, chips, and cherries.
Pour into buttered mini-muffin tins.
Bake 20 minutes.
Remove minis from tins and cool on wire rack.