Magnificent Macaroni Salad
sbera007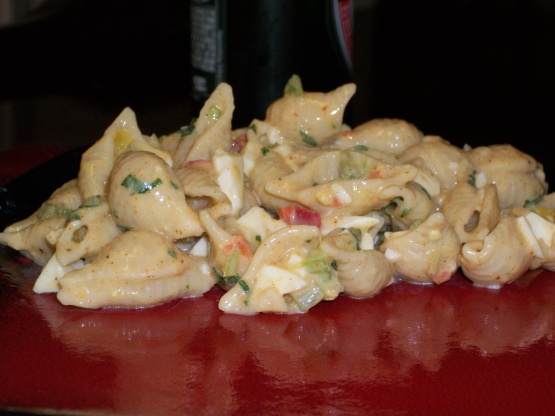 This is a wonderful salad that goes great with everything. I'm not particularly fond of elbow macaroni so I experimented with the shells. Don't expect this to last for another meal. It'll be gone before you know it.

I just finished making this salad. I hope you don't mind--I added about 1Tbl of honey mustard and 1/4 cup sour cream as we like the tang. Anyway, even at room temp, it is delicious. I DO like the idea of the mashed egg yolks. What a nice flavor!! I am going to try your chicken paprikash next. Keep on cookin'
Cook shells per directions.
Remove yolks from hard boiled eggs.
Mash egg yolks with buttermilk, mayo, sugar, salt and pepper.
This makes the dressing.
Drain shells and rinse with cold water.
Add onion, celery, tuna fish, green and red pepper to shells.
Dice egg whites and add to shells.
Pour dressing over shells.
Add paprika and parsley.
Toss.