Magical Peanut Butter Cookies
dojemi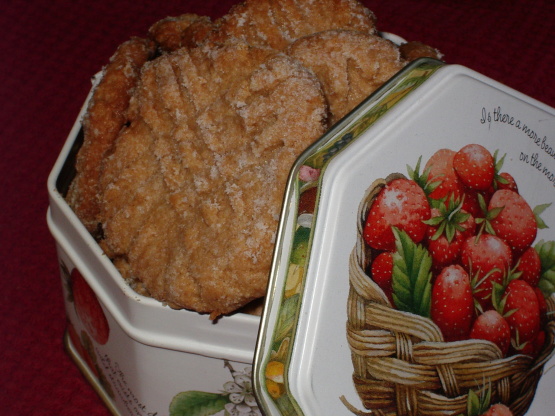 From Paula's Home Cooking. Excellent for South Beach Dieters.

Top Review by Kim D.
I loved these cookies. Of course they aren't going to taste like the full fat, full sugar version, but I really liked them. I followed the directions, but I used regular sugar to press them down with a fork. When they first came out of the oven they were a bit crumbly, but after they cooled and I placed them in an airtight container, they softened up and were no longer crumbly. I will definitely be making these again as DH and I are both trying to eat healthier this year. Thank you Dojemi.
Preheat the oven to 350 degrees F.
Cover a large baking sheet with parchment paper.
In a mixing bowl, combine the peanut butter, Splenda, the egg, and vanilla, and stir well with a spoon -- it will be sticky.
Roll the dough into balls the size of walnuts (I use a melon baller).
Drop ball into additional Splenda and roll to cover with sugar.
Place the balls on the prepared baking sheet.
With a fork press a crisscross design on each cookie.
Bake for 12 minutes.
Cool slightly before removing from pan.