PaulaG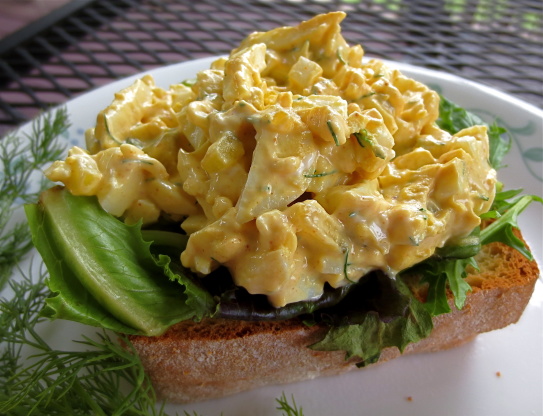 Creamy egg salad with a little tang

I choose this recipe as I had exactly 5 eggs to use up and the amount of ingredients were perfect for 5 large eggs. I added fennel herb instead of dill, as that's what we have in our garden. And I also added some finely chopped spring onion and celery. Great recipe.
Place eggs in a saucepan and cover with water.
Bring to a boil, remove from heat, and let eggs stand in hot water for 15 minutes.
Remove eggs from hot water, cool under cold running water, and peel.
Chop eggs and transfer to a large bowl.
Stir mayonnaise, Dijon mustard, sweet pickle relish, steak sauce, paprika, and dill into eggs until well mixed; season with salt and black pepper. Cover and refrigerate until chilled, if desired.
Sprinkle with cayenne pepper before serving.