Gena B.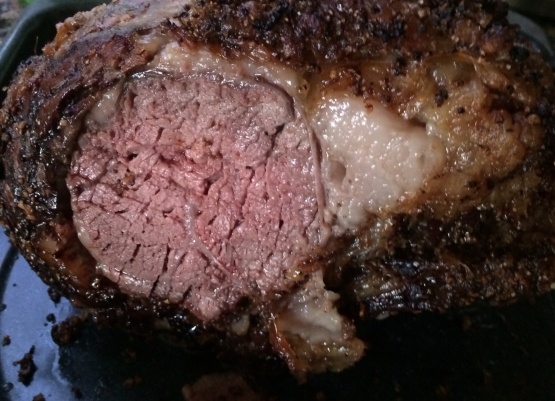 This recipe for Prime Rib works every time, thus the word "magic." I have relied on it for holiday dinners and special occasion meals for over 25 years. It really gives the chef a lot of wiggle room to make the rest of the meal. It does take 2 1/2 hours of oven time. And it does work! I have the butcher debone then retie it for the best flavor. I have had good luck with this method of cooking for many years with 3-5 pound roasts, but several chefs here at Zaar have said that the roast should be 5-7 plus. Just always go to the butcher and order Prime or get Choice. None of this "Select" or "Blue Ribbon" stuff. If you're spending the money for a prime rib roast, please don't go for these cheap and flavorless grades of meat. We learned this the hard way and should have known better, Hubby's Daddy was a butcher. And they are a dying breed. I hope you enjoy this cooking method and the results!

I've REALLY enjoyed using this prime rib cooking method and it has been foolproof until now. The four previous times I've used it the roasts were in the 5-7 lb range and they were about as close to perfection as you can get. This time, however, I used a smaller roast in the 3-4 lb size and it came out well done without any pink. Our guests at tonight's dinner were understanding and those who would normally ask for end cuts were very pleased, but those of us who like our prime rib on the medium rare side had to just grin and bear it. Please do not misunderstand because I'm not complaining. In truth, this is STILL the best way I know of to roast a prime rib. One just must understand that the size of the roast does, in fact, count. The timing of 1 hour, 1 hour, 1/2 hour are still solid, but adjustments need to be made for roasts that are under and over weight. Five lbs seems to be the magic number in terms of sticking strickly to the cooking times. My experience is that a 7 lb prime rib comes out too rare and as I've mentioned above the 3-4 lb roast was simply overcooked. I will from this time forward compensate on the final cook time cycle making it shorter or longer as needed. Use a meat thermometer and it will solve a lot of potential problems.
1

prime rib roast, 5-7 pounds (or more)

2

tablespoons seasoning, your choice, I use Johnny's
Cooking time = 2 1/2 hours EXACTLY.
Bring roast to room temperature.
Preheat oven to 350°F.
Season the roast to your taste, (I use Johnny's Dock), place on rack and place in preheated oven.
Cook for exactly 1 hour. DO NOT OPEN OVEN DOOR AT ANY TIME DURING THE ENTIRE COOKING PROCESS!
Turn oven OFF for exactly 1 hour.
Then turn oven on at 400 F for half an hour.
Let roast stand for 15 minutes or so to let juices redistribute before carving. Roast will be juicy and pink without failure. The size of the roast doesn't matter. It works!